The school provides a balanced Namibian-based curriculum consisting of subjects such as English, Afrikaans, Mathematics, Sciences, Social Studies, Art, Craft, Design & Technology, Computer Awareness, Physical Education, and Environmental Studies. The medium of instruction is English and Afrikaans as a second language.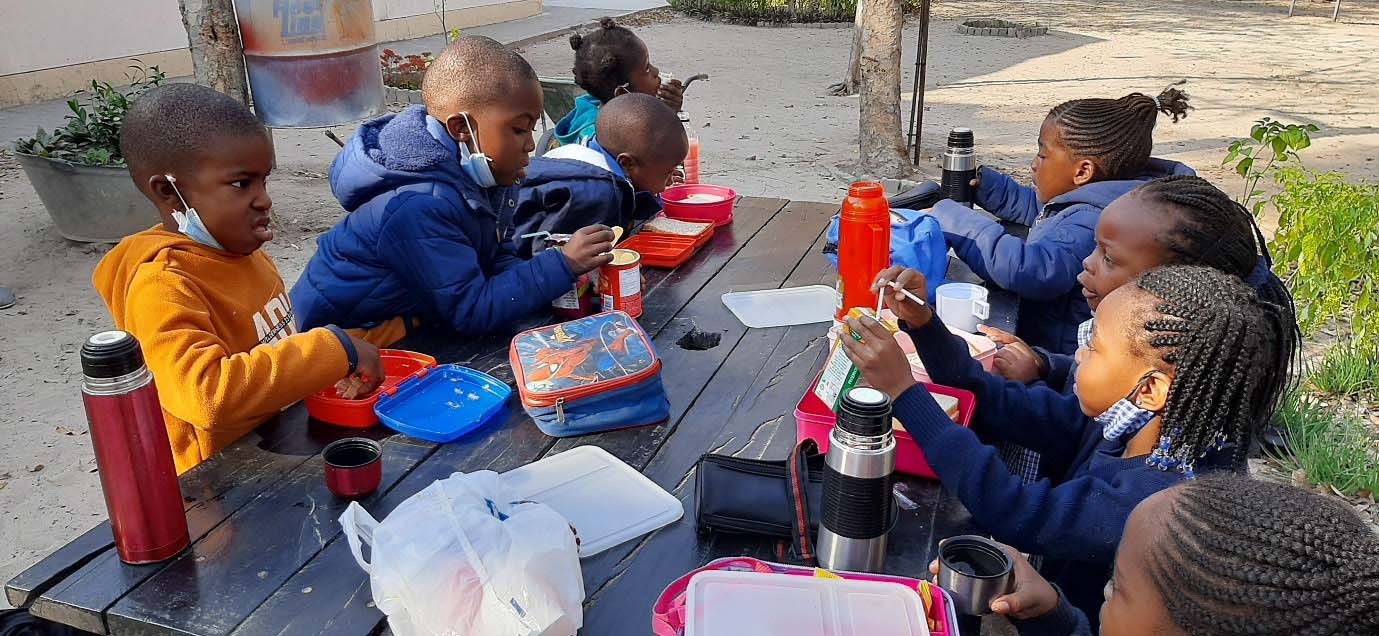 Pre-Primary
Learners may be admitted into Kindergarten from the age of four (4) years. The grade 0 class emphasizes the preparation for grade 1. The curriculum is designed to enhance children's holistic development and prepare them for primary school. The Pre-school teachers can use the curriculum with flexibility thus allowing them to be innovative in their teaching methods. Activities, games, and songs form an active part of the curriculum and stimulate the creative development of the child. Excursions and interesting activities are undertaken regularly.
Junior/Senior Primary
Grade 0 starts from the age of six to seven (6 -7) years. At the end of the pre-primary year, children are tested in accordance with the" ABS" test. The results are discussed with parents and the school then makes a recommendation. Children that do not qualify for grade 1 would normally be given another year in the pre-primary to help lay a solid foundation phase. Children aged five (5) and younger do not possess the emotional maturity required to cope with grade one (1), and will not be admitted until they turn age six (6) and develop further.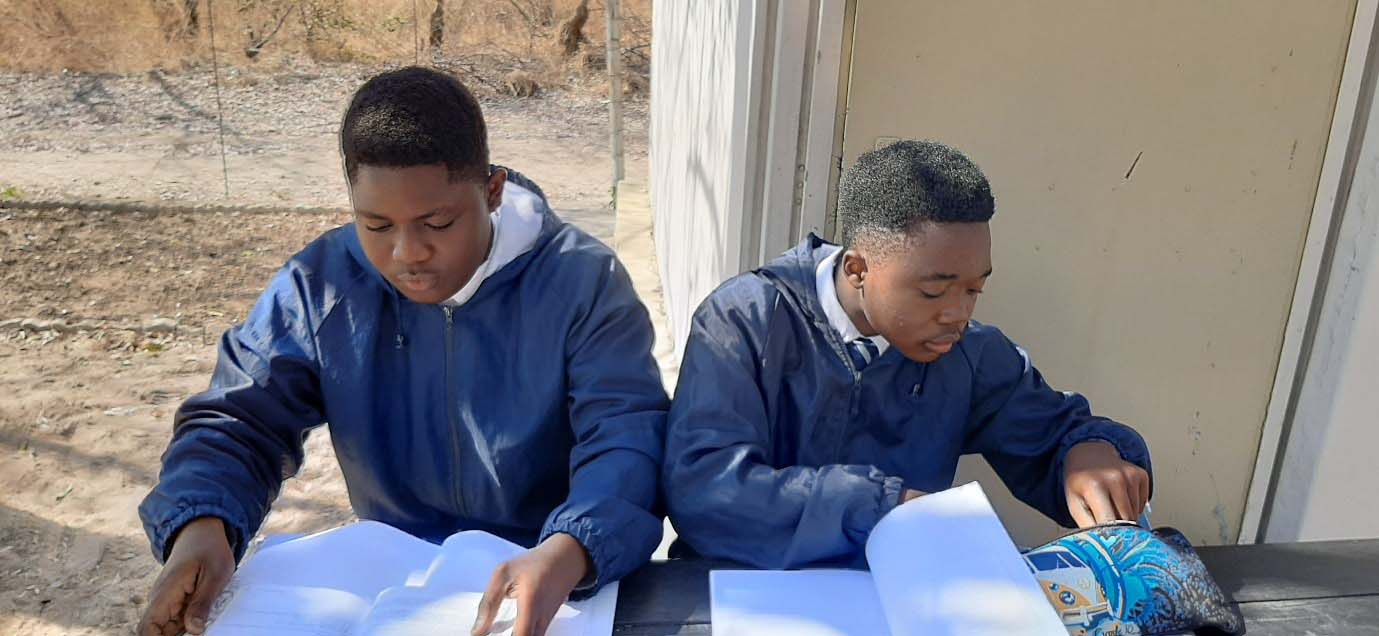 High School
The High School at ZPS was started in 2019 with only four (4) students in Grade 8. And now it had since grown and we have the Grade 8, 9, and 10 with an enrolment of 19 students at the moment. The Grade 8 and 9 Curriculum has nine (9) subjects:
➢ English
➢ Afrikaans
➢ Mathematics
➢ Physical Science
➢ Entrepreneurship
➢ Accounting
➢ Life Science
➢ Geography and
➢ History
We boast of very capable, focused, and professional teachers who make sure that no stone is left unturned in the teaching of the children.
The Grade 10 and 11 Phase has two (2) departments:
1. Accounting Department which has the following subjects:
English
Mathematics
Afrikaans
Accounting
Business Studies and
Economics
2. Sciences Department which has the following subjects
English
Mathematics
Afrikaans
Physics
Chemistry and
Biology
As for the year 2022, the curriculum for the Grade 10 and 11 will have a slight change in that we are going to avail on the option of Geography instead of Afrikaans for next year's Grade 10 students. We are currently extending our existing infrastructure and we shall be having a fully functional library to help the high school students with their studies and research. Computer Studies is still a pipeline dream and hopefully, in 2023, it will be introduced.
SPORT
Sport Developmental benefits
Sport helps children develop better ways to cope with the highs and lows of life. When they're playing a sport, children learn to lose. Being a good loser takes maturity and practice. Playing sport helps children learn to control their emotions and channel negative feelings in a positive way.
Our sports and activities program emphasizes balanced lifestyle habits to last a lifetime, including team sports, outdoor recreation, student groups, and service activities. Depending on the time of the year, sporting activities include various ball games, rugby, cricket, swimming, marathon, and athletics.
SOCIAL CLUBS
Why leadership?
LEADERSHIP skills allow children to have control of their lives and the ability to make things happen. Leadership instills confidence and helps children solve problems creatively, work in a team, and work collaboratively with others. Leadership gives children many opportunities to develop responsibility.

SCIENCE education activities provide children with opportunities to develop and practice many different skills and attributes. These include communication skills, collaborative skills, team working and perseverance, as well as analytical, reasoning, and problem-solving skills.

NATURE provides countless opportunities for discovery, creativity, problem-solving, and STEM education. Interacting with natural environments allows children to learn by doing and experiment with ideas. In nature, children think, question, and make hypotheses — thereby developing inquisitive minds Moreover, CHESS promotes concentration, encourages organization, improves logical-mathematical thinking exercises memory, improves self-esteem, favors the control and management of emotions, and encourages a sense of responsibility
Gallery
Social Clubs Photos
CULTURE
Cultural awareness and tradition play important roles in helping young children develop a positive sense of identity and build self-esteem. Studies show that cultural appreciation and awareness contribute to building a positive self-image.
MUSIC | DRAMA & ART
Music ignites all areas of child development and skills for school readiness, including intellectual, social-emotional, motor, language, and overall literacy. It helps the body and the mind work together. Exposing children to music during early development helps them learn the sounds and meanings of words.

Creating art expands a child's ability to interact with the world around them, and provides a new set of skills for self-expression and communication. Not only does art help to develop the right side of the brain, but it also cultivates important skills that benefit a child's development.

Reading helps your child get to know sounds, words, and language and develop early literacy skills. ... spark your child's imagination and stimulate curiosity. help develop your child's brain, ability to focus, concentrate, social skills, and communication skills.

Debating helps children develop essential, necessary thinking skills, which allows them to reason and think through arguments. It also creates the ability to question the evidence behind a particular statement or stance rationally.
EVENTS
Activities and games for socialization are a great way for your child to learn how to behave around their peers, no matter if he is a toddler, preschooler or if he just started kindergarten. Games can teach skills like taking turns, managing emotions, and reading body language.